Maxi skip hire in Leeds (8 ton)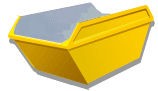 The popular one! The maxi skip, or builders skip as many call it, is used by those in the building trade and for larger domestic requirements. Maxi skips, the biggest of the standard shaped skips that we do, measure 4ft high, 10ft long and 6ft wide.
We've worked out that, as long as you've got the manpower and the energy, you can put something in the region of 70 black bags into a builders skip. Please note that, unless you are going to have the skip on your driveway, you may need a temporary permit from Leeds City council to put the skip on the road. These are available from us.
What can't go into a 8 ton builders maxi skip?
An 8 yard maxi skip will hold most waste items and, due to their size, will fit all sorts of larger items in. However, there are a few things that we don't allow in our skips:
Asbestos - an extremely dangerous material that we are not registered to deal with. Please avoid putting asbestos in the skip
Fridges and freezers - unfortunately, both these items contain harmful gasses and we are charged a fee to dispose of these
Tyres - whilst you may think that these are acceptable waste, they have to be disposed of in a certain way which costs us money
All the above are considered 'hazardous' and must be disposed of in alternative ways. If you're confused or have any questions relating to what you can or can't put into a maxi skip then please contact us and we'll happily advise you.
If you're looking for maxi skip hire in North Leeds, call us today on 0113 370 9125.