Mini skip hire in Leeds (2 ton)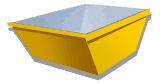 When all you need is a convenient little skip, mini skips really are ideal - certainly if you're filling them with just everyday waste. They measure 3ft high, 4ft long and 3ft wide and, due to their size, they can fit into what many would consider an 'inaccessible' area.
Of course, it depends on how full you fill your black bags, but we've worked out that you can comfortably put approximately 25 black bags into a mini skip.
What can't go into a 2 ton mini skip?
We're quite happy for most things to be thrown in our 2 ton mini skips, with a few exceptions:
Asbestos - this is a dangerous,hazardous and harmful material which we are not registered to deal with
Tyres - new regulations means that tyres must be disposed of in a certain way which costs us money
Fridges - the harmful CFCs in these mean we have to pay a fee to dispose of these, we don't allow them in our skips
Freezers - as with fridges, we have to pay to dispose of these so please refrain from putting them into our skips
All the above are considered 'hazardous' and must be disposed of in alternative ways. If the above items are found in our skips you may be asked to pay an extra premium for further disposal. If you're confused or have any questions relating to what you can or can't put into a mini skip then please contact us and we'll happily advise you.
If you're looking for mini skip hire in Leeds, call us today on 0113 370 9125.